Ordo Kalendar
For Roman Catholics of Anglican Heritage
The 2019 Ordo Calendar was shipped to all subscribers the week of Thanksgiving. The project raised $944 for The Bishop's Appeal.
Use the arrows to step through the months of the calendar.
Example of a Parish Personalization. Black lines indicate the edge of the paper.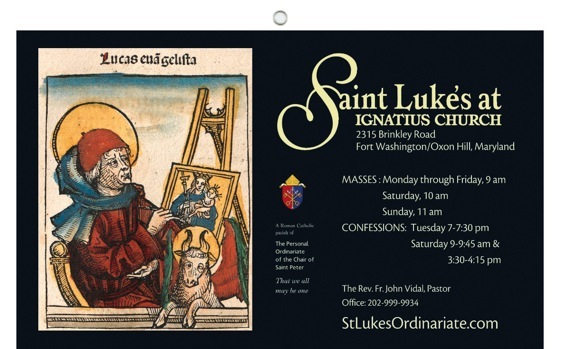 (Use the arrows to step through the months of the calendar.)
Ordering
Ordering for the 2019 calendar has ended.
Calendars cost $3 each and are available only by subscription.
All proceeds after printing and mailing costs will be
donated to the POCSP Bishop's Appeal.

Scroll up for a slideshow of the 2015 through 2020 calendar pages.
Parish Personalization Options
The "standard" top for 2019 appears below. We have been given permission to use an image of the statue of Our Lady of Walsingham at the Cathedral of Our Lady of Walsingham in Houston.
Parish personalization is FREE for any order of 50 or more calendars,
and includes replacing any part or all of the standard top with your own design.
For orders of less than 50, the empty space on the
standard top is available for Do-It-Yourself personalized labels.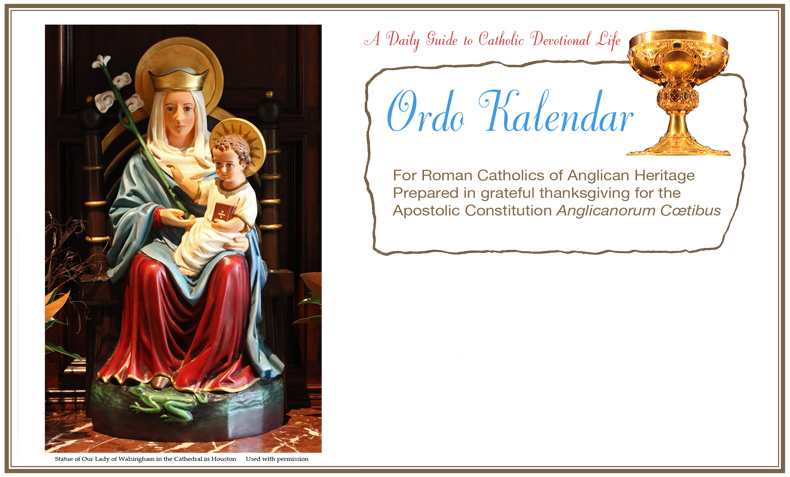 The individual pages are in the format of these thumbnail images:



Scroll up for larger images of the calendar pages.
These "ordo calendars" depict in full color what is shaping up each month, and they are often hung in our kitchens and offices and church sacristies. For over half a century, calendars in this format have been available in a number of different editions: one for Episcopalians following the standard calendar, another for those who preferred a higher "Churchman's" ordo, one with the Catholic calendar of the USCCB, plus editions for Methodists, Lutherans, and other Christians.
Thanks to a not-for-profit, private, and independent effort, 2018 Ordo Kalendars will again be available for purchase which follow the unique Catholic calendar for former Anglicans in the Roman Catholic Church. The calendar will only be available by advance subscription.
Our Ordo Kalendars will include the extensive differences in the calendar which are part of the Anglican Patrimony: Sundays after Epiphany, Sundays after Trinity, the season of Pre-Lent with its three "-gesima" Sundays, the Rogation and Ember Days, and a number of additional saints. The calendar is produced by the same computer program which generates the official ordo of the Personal Ordinariate of the Chair of St Peter.
To distinguish this calendar from others with a similar format, this calendar will be known as the "Walsingham Edition" after the principal English shrine of Our Lady, a shrine that is both Catholic and Anglican. There is also a Canadian edition of this calendar, identified as the "Saint John the Baptist Edition".
A Calendar Guide is printed underneath the last calendar page. Below is the 2019 Guide.